Orla Gallagher – Chief Executive and Board member




Orla joined Housing Solutions in September 2016 with over 25 years experience in the housing sector.  Orla has been the Chief Executive of CDS Co-operatives and MD at Genesis Housing Group.  More recently, she was the Chief Executive of Hounslow Homes and the Chief Transformation Officer at the LB of Hounslow.  Orla has a degree in Housing & Development and qualifications in Housing Management (MCIH), Surveying (RICS) and Business Management (Henley Management College). Orla is an elected FRSA (fellow of the Royal Society for the Encouragement of Arts Manufacturing and Commerce).
Carol Lovell - Director of Corporate Services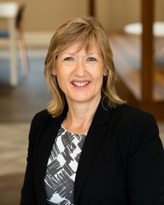 Carol was appointed Director of Corporate Services in February 2018 having previously been Head of Development for Housing Solutions. Carol has extensive experience in the sector garnered from over 15 years of holding strategic roles for a number of local authorities. Carol is also a member of the Chartered Institute of Housing.
David Joyce – Director of Finance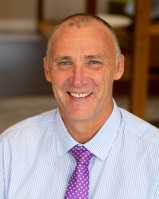 David Joyce is our Director of Finance.  David has had successful 18+ year career within the housing sector having previously worked for Christian Action Housing, A2 Dominion, Swan Housing, and Tower Hamlets Community Housing among other housing associations.  He has a demonstrable track-record in both finance and treasury with a strong focus on operational excellence and driving value for money initiatives. David is a FCT (Fellow of the Association of Corporate Treasurers.) Originally from NZ, outside work David enjoys the somewhat pedestrian pursuits of white water kayaking and paragliding. 
Steve Brookfield - Director of Property & Development


 Steve is an established senior leader having led large scale teams in Kier Services Ltd for over 12 years. He has been responsible for leading housing contracts for large and small housing providers worth more than £120 million.  Steve has a compelling vision for continuing to develop our customer services, especially focusing on our housing stock. 
Board Members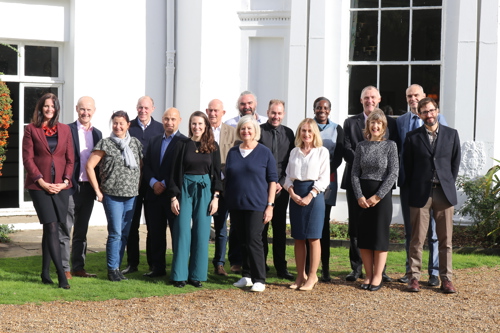 The Housing Solutions Board is currently made up of non-executive independent members and our Chief Executive.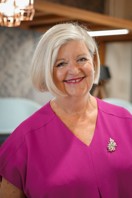 Liz Padmore - Chairman 
Liz has been Chairman of the Board of Housing Solutions since 2018 where she also chairs the Nominations Committee. She has extensive experience at the Board level in the private, public and not-for-profit sectors.  On 1st January 2022, Liz was appointed as the Chair of the British Red Cross.
She was previously a strategy partner at Accenture where she created and ran their global strategic Think Tank, specialising in scenario planning, strategic communications, corporate social responsibility, and relationship management.
Liz is a Barclay Fellow of Green Templeton College, Oxford where she chairs the Remuneration Committee and is a member of the Risk and Scrutiny Committee; on the Council of Management of the Ditchley Foundation and a member of the F&GM Committee; a Commissioner for Hampshire 2050; Chairman of the Remuneration Committee of Brasenose College Oxford; a member of YBI (Prince of Wales' Youth Business International) having been a trustee for over 10 years; and an Emeritus trustee of Women for Women International.
Previously she was Chairman of Hampshire Hospitals NHS FT for 9 years; a member of the Board of the IPSA; on the Council of Chatham House; a Director of National Australia Group Europe and Clydesdale Bank plc. and the advisory board of IMD. Liz is a member and previous vice chairman of IWF UK; a member of Women Corporate Directors and an elected FRSA (Fellow of the Royal Society for the Encouragement of Arts Manufacturing and Commerce).
She was awarded the Sunday Times public sector Non-Executive of the Year Award.
Angus McCallum - Senior Independent Director
Angus has been on the Housing Solutions Board since 2015 and was appointed to the role of Senior Independent Director on 1 June 2021. Angus is a member of the Funding & Nominations committees. He is the Chair of the Renumeration Committee.  Angus worked for BG Group for over 29 years and his areas of expertise are business transformation, change management and business and IT strategy, and more recently was Chief Information Officer for the Metropolitan Police (MPS).
Nick Whitaker
Nick joined the Housing Solutions Board in 2019 and is Chairman of the Audit & Risk Committee and a member of the Funding Committee. 
Nick is a Chartered Accountant. Until March 2015, when he retired from full time work, he was a partner in BDO LLP and prior to that PKF (UK) LLP, providing audit, forensic and corporate finance services.  This included work in the charity and not for profit sectors as well as for corporate and government departments and bodies. He has acted as an expert witness with High Court experience in a variety of commercial disputes and professional negligence cases.  He is a qualified mediator. Since retiring Nick has taken on a number of trustee, non-executive and regulatory positions.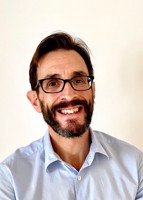 Jeremy Stibbe
Jeremy joined the Board in 2020 and is a member of the Audit & Risk Committee and is the Board health and safety champion. He is also Chair of Housing Solutions Development Ltd.  Over the last 35 years, Jeremy has demonstrated both insight and zeal to housing association development, regeneration and property management at both executive and non-executive levels.  Jeremy is also Chair at BexleyCo Homes.
Jeremy has a genuine passion for the housing sector and social good, and over the last ten years has brought his individual style to executive board leadership roles within Network Homes, Peabody, Notting Hill Genesis and to his current role of Managing Director of Lampton 360 Property Ltd. Due to Jeremy's hands-on approach in executive and non-executive positions, he brings exceptional value to our Board, as a result of his fresh perspective and proven leadership skills.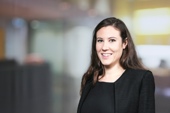 Rebecca Smith
Rebecca joined the Housing Solutions Board in February 2022. She is an experienced sustainability professional with expertise in delivering property sustainability strategies and supporting wider strategic business growth. Rebecca has expertise in building design and retrofit, tenant sustainability and sustainable property management. She currently works as a Director at Savills. Rebecca has a Masters degree in Architecture and Environmental Design, a Fellowship in Sustainability Leadership and is a Chartered Environmentalist.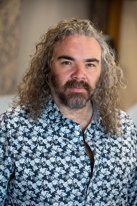 Barry Malki
Barry joined the Housing Solutions Board in February 2022, bringing with him an extensive background working as a consultant and senior manager across various community roles. He was Thames Valley Housing's Community Investment Manager for 5 years before taking up a role as Head of Communities at HACT.  Barry is currently the Director of Communities with Social Squared, a specialist consultancy for strategic community investment, resident engagement and social value. Barry has held, and continues to hold, various Non-Executive Director positions, including with an International Development Charity and Mears Group Plc.  Up until recently he served as a local councillor on Burnham Parish Council.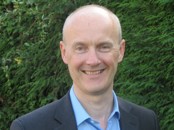 Ian Windsor
Ian Windsor joined the Housing Solutions Board in November 2022 bringing with him over 30 years' experience in IT/digital roles. He has led various digital and organisational transformations in UK and global companies including Procter & Gamble, WH Smith and Reckitt Benckiser. Presently Ian holds the position of Chief Information Officer (CIO) at ConvaTec Plc, a FTSE 100 company where he is currently overseeing the delivery of an enterprise-wide digital transformation and leads on Cyber and Privacy risk.
Ian has extensive Board level experience both as an executive and as a Trustee. He is currently a Trustee of charity Pets as Therapy, where he also serves on the Finance Committee. Ian has an Honours degree in Electrical and Electronic Engineering from UCL.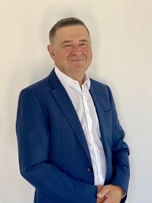 Fred Maroudas
Fred Maroudas joined the Housing Solutions Board in November 2022 bringing with him extensive senior treasury and commercial experience in UK regulated capital markets with a focus on infrastructure.  He has held the roles of Finance Director of Heathrow Airport, Director of Treasury for BAA, Head of Rail & Airports Infrastructure within HM Treasury and prior to that he was Director of Funding at Network Rail.  
Fred brings a wealth of experience acting as chair and non-executive director, having served on several boards within the commercial and non-profit sectors.  This has included Chair of the Investment & Risk Committee at UK Green Investment Bank Ltd (where he was also a founding director) and trustee director at the Institute of Cancer Research Pension Fund and the Railway Pensions Scheme. Fred is also chair of his local Parish Council. 
Fred has a strong interest in the housing sector and currently chairs AWOL London, a west London-based housing association and Agilia Infrastructure Partners Ltd, where he remains active as senior adviser to a number of government departments and agencies on UK infrastructure. He has a professional background in journalism, investment banking and is a qualified solicitor having graduated from St Catherine's College, Cambridge.